How the Mobile Alarm works.
Revolutionary technology working with Telstra 4GX Mobile and Swiss designed GPS.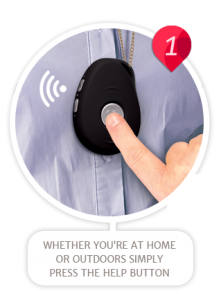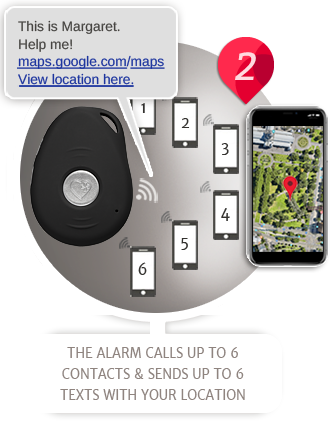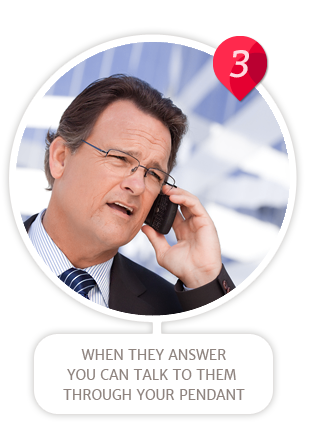 LiveLife Mobile Alarm.

Safety for independent and active seniors.

The LiveLife Mobile Alarm allows you to live your life knowing help is just a press of a button away. It is perfect for seniors who like to be independent and active. By not relying on landlines or the NBN you can avoid the hassles of traditional personal alarms.

It is a stylish pendant that works using the same cellular phone technology as a mobile phone, but without the complicated features.

Uses the widest mobile network in Australia & includes Bluetooth, GPS & wifi tracking to call up to 6 of your emergency contacts. You can even include '000'.
At the same time it sends help messages via text with a link to Google Maps showing the pendant user's location to approximately 2 metres.
When one of the emergency contacts answers, the wearer is able to talk hands free through the showerproof pendant. Anyone who knows the mobile number of the pendant can call it and it will answer in speaker-phone mode automatically. More…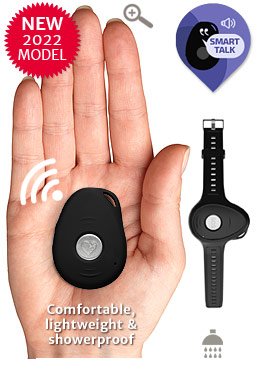 Perfect for seniors

who are at risk of falls.

Ideal for people who are likely to suffer falls whether at home or alone outdoors. Also includes a fall detection feature.
No monthly fees ever.

One off cost only.

In an emergency it contacts family and friends, not a stranger in a call centre. So there are never any monitoring fees. Order on 1800 936 774 or online here…









How the Mobile Alarm works.
Revolutionary technology working with Telstra 4GX Mobile and Swiss designed GPS.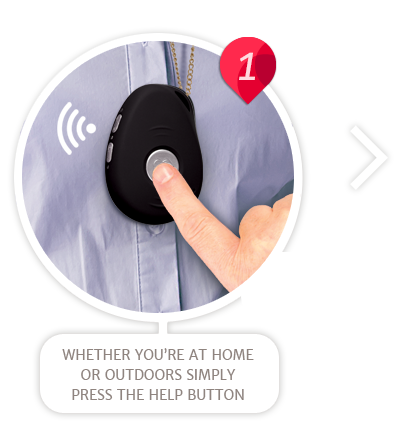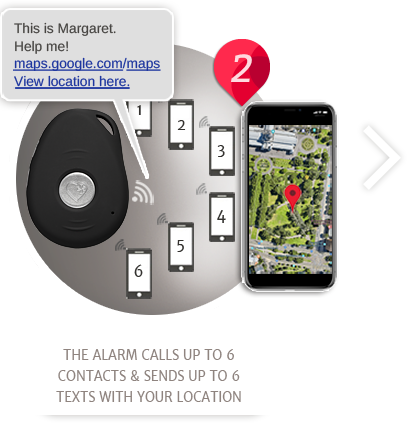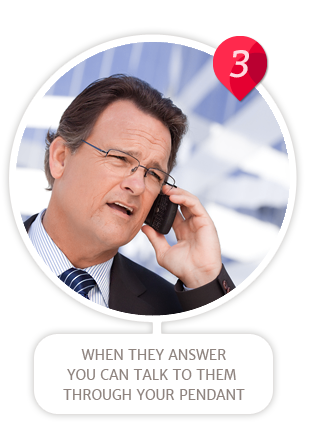 Who needs one?

The case for medical alarms and why falling is so common.

When it comes to falls the statistics are perhaps surprising. Most people don't know that 1 in 3 people over 65 years have a substantial fall in any given year.1 Falls are the leading cause of injury-related hospital admissions in people aged over 65.2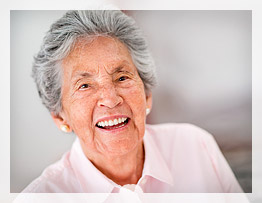 Sixty percent of falls occur at home. They usually occur when getting out of a chair, bed or when going to the toilet.2 More active seniors fall in the street, shops or parks often alone.
What are the statistics for
falls

for people aged 65 and over?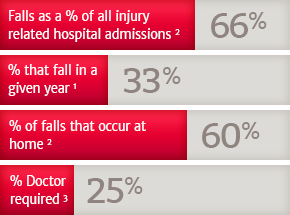 Older people are at increased risk because normal ageing often involves worsening balance, eyesight, muscle tone & slower reactions.
Getting help after a fall
Getting help after an immobilizing fall improves the chance of survival by 80% and increases the likelihood of a return to independent living. Read more…