For the elderly two desires remain foremost in their minds as they age. People wish to remain independent and to continue to live at home for as long as possible. They want to retain the freedoms and activities they are accustomed to. They want to feel safe doing whatever their heart desires whether that is indoors or outdoors.
Across the breadth of Australia our elderly population to a large degree is healthier than their parents were in their seventies, eighties and nineties. But even with a generally improved health outlook the risk of falling remains for many and help needs to be available wherever they are. LiveLife Alarms recognised this a number of years ago and was the first personal alarm company in Australia to offer a truly, mobile alarm that works anywhere.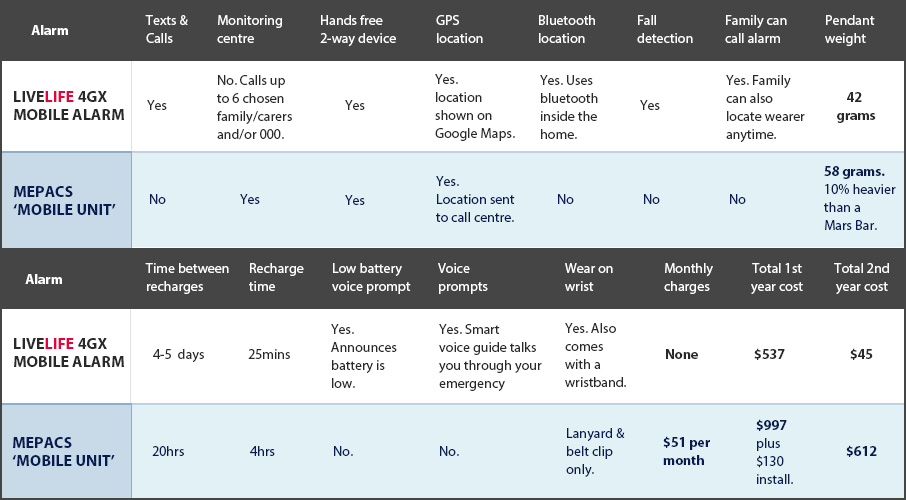 Over the last few years our elderly customers and their families have helped us greatly with informed feedback on what features are needed and the service levels that suit them and their families. As a result we have continuously improved our mobile personal alarm to meet the needs of our community.
The key difference in features between the MePACS and the LiveLife Personal Alarm
The features and affordability of the LiveLife Mobile Alarm have been what has lead it to be the largest selling personal alarm in Australia. MePACS Mobile Unit is an add on pendant to their home based system alarm system. As a result we believe the technology is considerably less advanced. Many of the key functions that elderly want and need are absent from the MePACS Mobile Unit. Our customers have told us they require simplicity, but want a clever device that does the critically important things and nothing more unless required.
A mobile alarm needs to be recharged like a mobile phone and so the required time between charges and the time on the charger is hugely important. A MePACS Mobile Unit battery needs to be charged within 20 hours of use or less, whereas the LiveLife Mobile 4GX Mobile Alarm can wait 4 to 5 days before needing a recharge and only takes 25 minutes to recharge as opposed to 4 hours. When the LiveLife alarm battery is low it will announce to the wearer it needs recharging. These advantages mean a wearer is more likely to keep using their device consistently and therefore remain safer.
Smart voice guide
Wearers also want to know what is going on when they activate their device. That's where LiveLife have introduced Smart Talk. During an emergency our alarm will immediately speak to the wearer guiding them through their emergency. At other important times the LiveLIfe Alarm uses these voice prompts making it simpler to use. In comparison the MePACS is substantially older technology and misses out on these vital features. A MePACS does not utlilise Bluetooth to assist with locating the wearer when they are indoors. Unlike the LiveLife charging station the MePACS charger does not contain any vitally important functionality besides charging.
Automatic fall detection
With such a large percentage of the elderly population at risk of falls and it being the number one reason for admission to an emergency department, any personal alarm worth it's purchase price needs automatic fall detection, This is a key difference with MePACS. A MePACS does not have fall detection whereas LiveLife has always implemented a fall detection function. Its too important to ignore we believe and paramount in the decision of which alarm to select for an elderly family member.
Comfort, fit and style
A wearer wants to feel comfortable and that may mean wearing a personal alarm around their neck, clipped to their belt or on their wrist depending on preference. Consequently the device should be small, light enough and have a form that suits all these modes of wear. MePACS, unlike LiveLife Alarms do not supply a wristband. Their Mobile Unit weighs a hefty 58 grams which is 10% more than a Mars Bar around your neck. In comparison the LiveLife 4GX Mobile Alarm weighs only 43 grams and is smaller overall. Dare we say it is considerably more stylish and unobtrusive.
Monitoring and affordability
The MePACS Mobile Unit comes as an add on to their home based unit and connects with the MePACS monitoring centre when activated. In some situations a monitored alarm is a good solution for a particular wearer. In our experience an alarm monitored by up 6 family members/carers is a perfectly adequate system for most wearers and there are many advantages in having the people who love you the most being the ones who take your call when you need help.
LiveLife Alarms has brought safety and affordability to seniors. With a first year cost of $537 and the only ongoing cost in year two of $45 we are providing an entirely affordable path to peace of mind for wearers and their families. The cost of the MePACS is $385 (you do not own the alarm unit) plus install fee and then $51 a month to use the Mobile Unit. A considerable, financial commitment for many seniors and families.